Dermatologic surgery encompasses a wide variety of methods used to remove skin lesions and revise the skin in both a reconstructive and cosmetic fashion. Dermatologic surgeons are uniquely trained in these methods during an intensive three-year residency following medical school and internship. To remain at the forefront of their specialty, dermatologic surgeons actively pursue continuing medical education throughout their careers.
There are many skin conditions that require surgical treatment. Skin surgery may be used to establish a definitive diagnosis with a skin biopsy, remove skin cancers and precancerous lesions, or to enhance your skin's appearance by removing unwanted growths and discolorations.
Some of the surgical techniques utilized at Arboretum Dermatology include:
Excisional Surgery
Cryosurgery
Electro surgery
Laser Surgery
Sclerotherapy
Soft Tissue Augmentation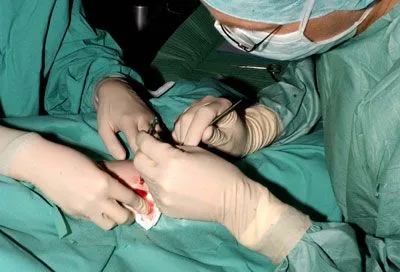 Excisional surgery utilizes a scalpel for removing benign or malignant lesions. Depending on the depth and size of the lesion, sutures (stitches) may be required for the closure and repair of the treated area. Special care is taken in placing the incision lines along normal skin tension lines as well as utilizing layered suturing techniques to minimize any visible scarring.
Lesions commonly treated by dermatologic surgery include:
Facial and body moles
Skin cancer
Precancerous Actinic Keratoses
Skin polyps/ tags
Cysts
Hemangiomata (red blood vessel growths)
Age/ Sun spots
Warts and Seborrheic Keratoses
Dermatofibromata (hard scar-like growths)
Neurofibromata (dome-shaped nerve growths)
Sebaceous Hyperplasia (yellow glandular growths on the face)
What are the advantages of having skin surgery at Arboretum Dermatology?
As a comprehensive dermatology center, we offer the full scope of care, from the diagnosis to the surgical treatment of you skin disorder.
Dr. Van Gurp, a board certified dermatologist, has performed tens of thousands of surgical procedures on the skin. Your surgery will be performed in our pleasant out-patient office setting utilizing only local anesthesia to ensure your comfort and safety. During your office visit, Dr. Van Gurp and his staff will discuss your medical history, examine and diagnose your skin problem, describe treatment options, and provide any follow-up care that may be needed. Today, with the many new technologies available, most skin conditions can be successfully treated.