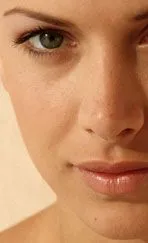 REJUVENATING FACIAL PEELS
A fresher looking face with younger looking skin may be achieved with chemical peels, a time tested method of revitalizing the face. Early methods date back to the ancient Egyptians but have been pioneered by dermatologists since the late 19th century.
The procedure consists of applying a chemical solution or mask to the skin which causes the surface layers to separate and peel allowing a smoother, more even colored skin to regenerate. In addition, this process may also stimulate new collagen formation allowing for renewed skin elasticity and further helping to reduce fine lines and aging changes. The types of chemicals used and the methods used to apply them will result in varying depths of peeling. The agents utilized in our office include salicylic acid, glycolic acid, trichloracetic acid, and multi-agent peels, such as Jessner's peel. More striking results may be achieved with deeper peels or a series of peels. Deeper peels are however associated with longer recovery times.
Chemical peels can be useful for:
improving skin texture
restoring skin tone and youthful glow
lightening or removing skin discolorations such as age spots, sun spots, and melasma
reducing fine lines and wrinkles
treatment of sun-damaged skin
treatment of certain types of acne
treatment of mild acne scars
REVITALIZING PEELS are often applied as a series of multiple treatments, usually 5 peels spaced one or two weeks apart. They result in renewed skin radiance with color and textural improvement. Revitalizing peels are quite popular because they produce little discomfort and no significant recovery time. Generally, only temporary sunburn-like redness is observed followed by mild peeling over three to five days. These peels are also quite effective in reducing white heads and black heads in acne prone skin.
RESTORATIVE PEELS are deeper and may be used to treat fine wrinkles and mottled pigmentation from sun damage. Depending on the agent used, there may be a mild to moderate stinging or a burning sensation during the first few minutes of the procedure. Our staff will minimize any discomfort you have by applying cold compresses and cool air during your treatment. There is no pain during the healing phase but depending on the agent used you may temporarily look like you have had bad sunburn. Afterwards peeling may last several days or more. Excellent results are usually achieved with this type of peel, leaving your skin looking younger and more vibrant.
What are the advantages of having a chemical peel performed at Arboretum Dermatology?
An initial consultation will be performed by Dr. Van Gurp who will individualize your treatment regimen depending on your skin type and the conditions requiring correction. A pre- and post-peel regimen will be determined and may include prescription medications to ensure your safety, comfort, and predictable results.
How do I schedule a consultation?
Dr. Van Gurp and his staff will be happy to discuss the best treatment plan for you. Simply schedule a consultation on this website.